Have your say on proposed ACC levy rates for 2022-2025 
We're recommending changes to levy rates over the next three-year period.
The proposals below describe how we manage our funding pressures and what's driving our proposed changes. We're seeking your feedback on these proposals.
Levy

Current 2021/22 levy rates

Proposed levy rate

Net change over 3 years

2022/23

2023/24

2024/25

Average Motor Vehicle levy rate per vehicle

$113.94 per vehicle

$120.20

$128.83

$138.08

Increase of $24.14

Earners' levy rate

$1.21 per $100 wages

$1.27

$1.33

$1.39

Increase of $0.18

Average Work levy rate

$0.67 per $100 of payroll

$0.63

$0.65

$0.67

No change
Examples of the impacts of the proposed increases
A family with a household income of $129,000 and three vehicles (currently paying $36.36 per week in levies) would pay $38.24 per week in 2023; $40.21 in 2024; and $42.22 in 2025.
A family with a household income of $85,000 and two vehicles (currently paying $24.11 per week in levies) would pay $25.44 per week in 2023; $26.76 in 2024; and $28.10 in 2025.
A small home construction business with 8 employees earning $70,000 each and a small fleet of six vehicles (currently paying $192.85 per week in levies) would pay $166.05 per week in 2023; $171.28 in 2024; and $177.66 in 2025.

We'll review all feedback received and then make our recommendations to the Minister for ACC. The Government will make the final decision on any levy changes.  
Your views can influence the final rates set by the Government and inform future proposals to improve the levy system. This is your opportunity to have your say. 
Why we collect levies
ACC is unique in the world. No other country provides a 24/7 no-fault, comprehensive accident compensation scheme. Each year we manage approximately two million claims costing nearly $5 billion. Levies are critical in allowing us to provide New Zealand with this world-class scheme that helps protect our way of life.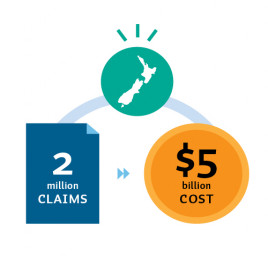 We collect levies to cover the cost of supporting people who have been injured in an accident or are the victims of sexual and physical abuse. This includes treatment and rehabilitation, as well as income support if an injury prevents a person from working.
For most people, this support lasts until they've recovered. For others, our support will continue for the rest of their lives.
Current levies are below what's required to cover costs
Last year, ACC collected $3.24 billion through levies, but the total costs of that year's injuries are expected to be $4.63 billion. Continuing to collect levies which don't meet the cost of injuries each year is not sustainable over the long-term.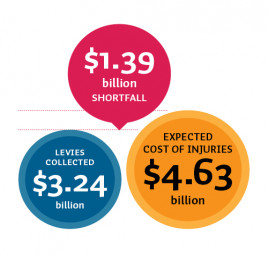 As an example the average motor vehicle levy - which comes from vehicle licensing (rego) and petrol - is currently $117 lower than what we expected to need to cover the full cost of supporting people expected to be injured in road accidents this year when we set the levies in 2018.
Proposed changes to levy rates
As part of managing a successful Scheme for accident prevention, care and recovery, ACC must consider the long-term nature of funding some claims (i.e. supporting injuries that impact people for a long time). We also need to provide levy payers with reasonable stability of levy rates over time.
Government guidelines for calculating levies
To support this, the government has set a funding policy statement which defines how ACC should calculate levies.
This starts with calculating the full cost of supporting people to recover from their injuries.
An adjustment to levy rates is then made based on whether we have too much or too little funding for past claims and whether we need to limit any levy increase (average increases can't be more than 5%, in addition to an allowance for expected inflation for the Motor Vehicle Account).